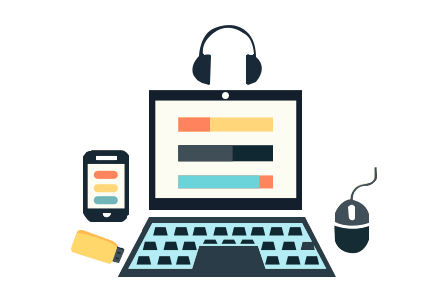 Subtitling or dubbing, what is the better choice? The never-ending debate on subtitling versus dubbing has raised concerns in the language sector as well as the film industry ever since a rise in the popularity of multilingual content has come to the fore. With the rising popularity of Netflix and Amazon Prime, foreign films are stealing the spotlight. Netflix understands what its audience wants to watch; so, it has increased the numbers of foreign films. Don't we love shows like Narcos or Money Heist? Instead of bashing about the advantages of using subtitles or dubbing in a video, let's explore what makes their usage so important, and how they lead to popularising the videos that use them!
What's the Major Difference Between Subtitling and  Dubbing?
The audiovisual translation of words being spoken by actors is called subtitling. Subtitles are titles mentioned at the bottom of the screen. Money Heist, a popular EuropeanSpanish Netflix show, is a psychological thriller that is available with subtitles in English, French, Simplified Chinese and Traditional Chinese. If you love to watch thrillers then, this show is a must-watch. And, you don't need to be upset about not knowing Spanish because you can watch using English subtitles.
Dubbing is a movie translation technique that replaces the actor's audio with recorded audio in a new language. "Bahubali" (a popular movie in the Indian film industry) was released in two parts and became highly popular. "Bahubali 2" became the highest-grossing Indian cinema globally earning INR 7.92 billion in 6 days. Its dubbed version is available in Telugu, Tamil, Hindi, Malayalam. So, if you're used to watching Hindi movies, you will not lose the feel of listening to the dialogues that give you the feel of your language because dubbing will save you there.
Advantages of Subtitling:
While receiving the Golden Globe for Parasite, Bong Joon-ho said, "Once you overcome the 1-inch tall barrier of subtitles, you will be introduced to so many more amazing films". This speech by the Korean director portrays the importance of subtitles in the film industry and with the help of subtitles, many more masterpieces are yet to be created and discovered. Some of the advantages of subtitling are:
Affordable Option- Subtitling is cheaper than dubbing.
Accuracy in Translation- Subtitle creation is a complex process and translated texts go through layers of editing and checking to produce accurate subtitles.
Shorter Turnaround- Creating subtitles take less amount of time.
Visual Learning Becomes Easier- Are you eager to learn a new language and experience the beauty of a foreign film at the same time? If yes then, go for subtitled movies.
Growth in the Film Industry due to higher accessibility- Due to the availability of subtitles in various languages, the film industry is no more confined by language boundaries.
Advantages of Dubbing:
We need to think of our films as world cinema and dubbing movies in foreign languages can be a great option to increase foreign viewers as dubbing makes movies more comfortable to watch. Some of the advantages of dubbing are:
Better Portrayal of Complex Characters- Portrayal of various complex characters and dialogues has become more convincing because of dubbing as textual representation is not enough for understanding complex characters or dialogues.
Secured Authenticity- Having a voice talent to perform the words in your target language can give you a sense of authenticity as you undergo a range of emotions when listening to voice actors and understand why their tone rises and falls.
Includes all ages- Including voice in the target language permits you to include those who live with visual impairments and would not be able to read subtitles or the people who are yet unable to read such as children.
Disadvantage of Subtitling
The only disadvantage of subtitles is that one might lose track of the film while figuring out the subtitles. So, subtitles could be distracting for some people. But a film critic said that he went to watch the Swedish version of The Girl with the Dragon Tattoo. He thought that the subtitles will be distracting and when the subtitles started rolling up, he realized that after the first 10-15 minutes his brain started reading the subtitles faster and caused no distractions.
Disadvantage of Dubbing
Geoffrey O'Brian, a brilliant film critic, refers to dubbing as "post- synchronized". This statement is supported by Wheeler Winston Dixon, UNL professor of film studies, and he explains it further, "If you take a film and strip out the actor's voice and you get someone else to dub it, what you get is some sort of an automaton on screen with someone else's voice speaking the language, and as a result, it's just completely unconvincing….. dubbing basically ruins a film."
We all have witnessed the horrible film experience once or twice when the actor's lip movement did not go hand in hand with the dubbed voice that made the film completely ridiculous and funny; you would have realised how the elimination of the original actor's voice had wiped out an important component of his performance. For this reason, most of the filmmakers and critics support the use of subtitles instead of dubbing.
The answer to whether to use dubbing or subtitles lies in the type of content you are producing. According to filmmakers and critics, dubbing may be more universal and attract a larger audience but a true film experience can only be witnessed by choosing subtitles over dubbing. However, animated movies and old Jackie Chan films are better when you opt for dubbed versions. There are many amazing foreign films available. Picking a side between subtitling and dubbing is quite impossible as the topic itself is subjective. So, pick the option that gives you a better experience, and keep watching the foreign films that you love!