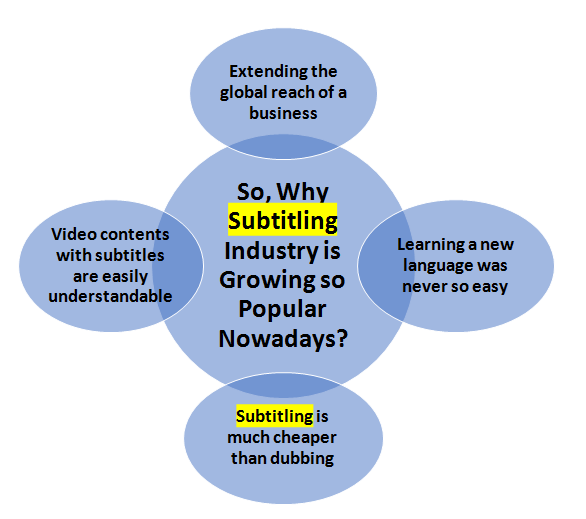 Don't we all love to watch movies or a web series with the subtitles? At present, video content is a hot topic. With the rise of global streaming platforms such as Netflix, Amazon Prime, Hulu, the subtitling industry is climbing the success ladder. "Sacred Games", a popular Netflix show based on Vikram Chandra's novel has been dubbed in only 4 languages but subtitled in 24 languages.
According to the data by Cisco, in 2021, 80% of online traffic will be generated from visual content which will eventually increase the demand for translation and 84% video content on Facebook and other social media platforms is often played without sound. So, subtitles are becoming crucial.
Did You Know That India is the 'Hub of Subtitling Work"?
Yes, you have heard it right. India is the hub of global subtitling. Prime Focus Technologies is a popular global player in the Indian Entertainment Industry. According to them, 40,000 hours of global subtitling work was processed last year and 70% of that work was done from India.
Subtitle Work Has Become a Major Chunk of Profitable Source of Income in the Language Industry.
The founder of Vaudiot Creatives, Mayank Jain, now earns 70% of his income from subtitle work while his company is primarily about dubbing services and he has a collaboration with 40 postproductions studious all around the globe.
Extending the Global Reach of a Business
"We need to think of our films as world cinema. Subtitles are critical for our films to reach the world audience."     Nandita Das (Filmmaker)
Let's put the focus away from the film industry for a moment. Adding subtitles or captions to a company's promotional videos is totally a smart marketing decision that maximizes the brand's revenue and popularity.
For instance:
Korean beauty products are all over the global market. These companies are using subtitles or captions to improve their global exposure.
Bhuvan Bam, an Indian Youtuber, adds captions and subtitles to get more views on his videos.
Not just Netflix and Amazon Prime, Dice Media uses Hindi and English subtitles for all of its web series.
Learning Was Never So Easy
Did you know that 65% of people are better at visual learning? Don't we all have watched those "How to do …" videos at least once?
Visual content is becoming every learner's favorite choice of learning as our brain can grasp it faster than the traditional methods of incorporation.
Video content with subtitles and captions makes learning fun, easier and visually appealing. It adds entertainment to teaching as well.
Subtitled educational videos are surely blessing in disguise for students with hearing issues.
Many language students choose foreign movies with subtitles to become fluent in their target language.
Video Content is More Accessible and Easily Understandable
Regional videos or web series have started to establish global popularity through subtitles as people love to know more about various cultures and stories. Subtitle/caption also helps when the video content is not very clear. A popular Netflix show called "Narcos" depicts the life of the Columbian drug King Pablo Escobar which is filmed in Colombia with most of its dialogues in Spanish that gives it authenticity. So, it is available with subtitles to reach maximum viewers. However, the dubbed version is also available, but, according to the viewers, the subtitled version seems more appealing and genuine as subtitles keep the voices of the original actors.
Subtitle Work is Less Hectic and Inexpensive Than Dubbing
If we are to talk about costing then, dubbing is 10 times more expensive than subtitling.  Dubbing is also extremely time-consuming as it involves translation, editing, voice-over, reviewing the material for a couple of times. So, subtitles are the first choice for most companies.
In the end, it can be said that subtitle work requires an artistic approach and mastery in both the source and target language. It is important to find a genuine and reliable company to handle such work. Successful Indian companies like Translation Light are highly competent and efficient in their operations. It has an ISO 9001:2015 certification, which ensures users of getting the best language service solutions, the majority of them being subtitling and translation services.
Why Should You Consider Translation Light as a Reliable and Genuine Subtitle Service Provider?
Translation Light makes sure that the subtitles are accurate and must mirror cultural specifications so that the entire art piece does not loose its authenticity. We understand the necessity to capture localization requirements along with accurate translation services. Our subtitlers can paraphrase the subtitles to mirror the accurate meaning of the video within the deadline.  We know the importance of viewer's understanding and that's our main priority.
So, let's keep on watching and loving foreign films and series!