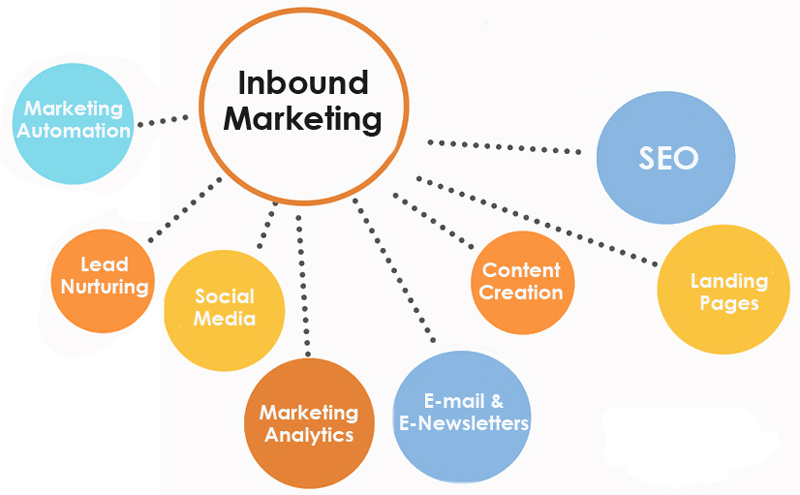 "Business has only two functions – marketing and innovation"
When it comes to your business, as a business leader, you are focused on only one thing and that is the wealth of your business relies on the excellence of the brand's marketing strategy and turning traffic leads to buyers. 40% of the world's you have friends from the marketing world, you must have heard terms like 'inbound marketing' and 'outbound marketing'.
So, there are two types of most-trendiest marketing strategies among many other types of marketing.
Inbound Marketing

Outbound Marketing
So, What Is Inbound Marketing?      
 "Attraction is the key"- this is the mantra for every inbound marketer. It is a digital marketing strategy for drawing the attention of the customers to products and services through content marketing, social media marketing, email marketing, and search engine optimization. This strategy is 62% less expensive than outbound marketing. According to Hubspot's State of Inbound 2017, 71% of global companies reported that they are totally focused on Inbound Strategy. This marketing strategy is an art of generating traffic, capturing the attention of the target customers and nurturing them to potential customers.
What are the strategies used in inbound marketing that can make your business the next billion-dollar business?

Expand Your Business Online
Get your business found through one click on the Google search bar. According to Google, 82% of smartphone owners use their device to analyze the products they want to purchase. Brush up your search engine optimization game. Use predictive analytics to measure and improve over time.                                                                                       
Expand Your Business On Social Media
Try to promote your brand on Instagram and Facebook. This is probably the most cost-efficient and successful strategy that Kylie Jenner used to build her billion-dollar empire. Only 14% of people trust advertisements on television and newspapers, while 76% of people trust consumer recommendations on social media. Start an influencer marketing campaign to increase awareness of your target audience.
Catchy Content
According to Seven Atoms, brands that create catchy content receive 97% more leads to their websites than 13% more likely to see positive results. So, choose your brand's content writer carefully.
This process has three magical spells to increase your revenue in months. Let's discuss the process.
Attraction
Use analytics to understand the needs of your customers and capture the potential customers using tools like ads, videos, blogging, social media and by updating your content strategy. You can also add relevant downloadable products such as free eBooks, free consultations, free course, and reports. Build a strong CRM.
Convert
Create attractive offers to your subscribers and convert them from your website viewer to your qualified leads. Nurture qualified leads through email and track their behavior. 
Potential And Happy Customers
Change the leads into potential customers and make them happy with your products and services. This will build a chain of new customers when old customers are satisfied. 
Now, What Is The Outbound Technique?
Outbound marketing is a technique of catching the attention of customers from a wide ocean of loosely targeted customers. Outbound marketing is done through television advertisements, face-to-face meetings, magazine advertisements, and cold calls. The outbound marketing strategy is going down since 10years.
What Is The Difference Between Both Of These?
While Inbound marketing has an actual strategy, outbound marketing lacks strategy.                                                              
Inbound marketing

is 62% less expensive than outbound. Customers reach your business in an inbound mechanism, while brands have to reach out to customers in the outbound mechanism.

The communication system is always two ways an inbound strategy. Communication is mostly one way.

Inbound is a process of earning people's interest instead of buying it and

outbound marketing

throws products and services on people while pushing people to buy it.    

The inbound technique adds value to your company and outbound technique adds less or no value to your brand.
Why Should You Choose Inbound And Not Outbound Strategy? Let's Talk About Numbers.
83% of online technology lovers found their sellers and articles through a click on the Google search bar.

Potential customers spend 50% of their time online for accessing customer reviews.

68% of online customers will spend most of the time reading content that is published by the brand of their interest.

77% of customers prefer permission-based promotions through email.

In the year of 2012, the average cost per lead in the inbound strategy was $346 and $135 for outbound strategy

The average shopper's attention span is 8 seconds. Grab it as fast as possible.

95% of global brands measure traffic and their needs. As a result, they are able to improve and upgrade their services and products.
How Does Inbound Marketing Help In The Growth Of Your Business?
The More It Is Cheaper, The More It Is Better
This marketing technique is perhaps the most cost effecting technique ever announced. You give less but you can gain more. According to Hubspot's research, the inbound strategy delivers 54% more leads than outbound strategy.
Update Your Revenue Game 
 Inbound marketing works like a magnet to needy customers who are looking for something on Google or social media platforms. Starbucks used mobile advertising and Starbucks launched an app called Mobile Marketer of the year in 2010 which accepted payments through phone. It saw 26 millions of transactions worth $110 million.
A Chain Of Happy Customers
The inbound strategy revolves around customer's satisfaction. The emails, videos, blogs help the customers to understand the products and your brand's care and guidance will lead to a life-long chain of happy customers. Salesforce focused 10% on their products and 90% of content marketing about the customers. After just a month, their social media traffic increased to 2,500 with 6,500 newsletter signups and 10,000 eBook downloads.
Choose the right marketing strategy for your business and reach your sales goals. If you are a start-up, then you must follow inbound marketing to strategy to get your brand in the spotlight.